Undergraduate Program
 Curriculum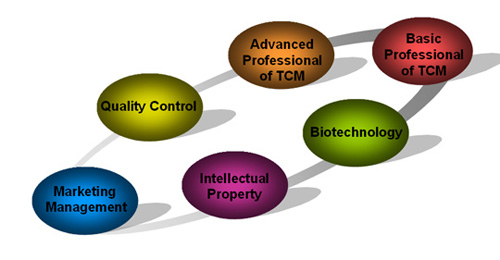 The core courses for professional are including general life science, basic traditional Chinese medicinal (TCM), relevant theory courses and experiment courses, and two months of internship in Chinese medicine relative factories, hospitals, or institutes during the summer vacations of grade 3 for practice of current Chinese medicine.
Our courses include as follows: 
The basic professional courses

 include TCM courses as the core, resources of TCM, biotechnology, marketing management, etc.

Quality controls

 include the courses using traditional methods, anatomy and chemistry methods, biological activity, and molecule biological techniques, to control the quality of Chinese medicinal. 

Biotechnology courses

 include using modern research to investigate the efficacy of TCM and for their modern applications.

Intellectual property 

includes the regulations of various countries and focuses on the further development of TCM. 

Marketing management

 includes traditional and modern marketing management; manage modernization, current situation of herbal industries, and development trend of TCM pharmacy, and to strengthen the management of international herbal marketing. 
 Teaching Goal 
Our teaching goal is to provide excellent educational environment to:
Understand the local medicinal herbal resources in the country.   

Determine quality of medicinal plants and products. 

Learn how to extract, separate, purify the medicinal component(s) of Chinese medicinal, and their pharmacological research method. 

Learn using modern techniques to study and investigate Chinese herbal drugs. 

Learn relevant trade of TCM and marketing skill.

Combine the government, academia, industry to study TCM, set up good medicinal herbal teaching and research environment, promote industry, science, and technology to upgrade.
 Requirement 
Annotation from school
Students need to pass English ability examination before graduating.

Physical Education (Both freshman and sophomore year) is required, It has zero credit and students can't graduate if they fail the course.

General civilian safety course is every week for 2 hours for zero credit (elective). Students born before 1994 can deduct 1 day from military services with every 8 lessons. (1 class for 4 days and 2 classes for 9 days, etc.) Those born after 1994 can deduct 2 days with every 1 class. Students are allowed to register the examination of prepared military officer if they complete 4 semesters of General Civilian Safety Education before graduation.

General education of CMU has courses of 9 categories & general education activity (Liberty Arts course). Students need to take at least 28 credits from the courses and complete 16 hours of "Liberty Arts "course (0credit) before graduating.

Service learning is a required course that has zero credit. Students have to complete 48 hours of service learning(Required course 18 hours, volunteer basic education training 12 hours and voluntary service 18 hours) before graduating. (More information is on the website of service learning center.)

Students need to attend basic CPR training held by school before graduating.

This credit calculation is used to determine graduation eligibility.
Annotation from department
Minimum credits for graduation are 128 credits, including 64 credits of compulsory courses, 28 credits of common courses, 36 credits of elective courses)

Internship of Chinese pharmacy & mannfacture practice is a required course that has zero credit. Students have to complete the course at the third semester.(Required 2 months in the summer vacation).
 Compulsory Course 
DEPARTMENT OF CHINESE PHARMACEUTICAL SCIENCES AND CHINESE MEDICINE RESOURCES COMPULSORY COURSES

SUBJECT

CREDIT

FRESHMAN

SOPHOMORE

JUNIOR

SENIOR

REMARKS

SEM1

SEM2

SEM1

SEM2

SEM1

SEM2

SEM1

SEM2

Introduction to Chinese pharmacy

2

2

 

 

 

 

 

 

 

Biotechnology for Natural Herbal Medicines

General chemistry (C)

2

2

 

 

 

 

 

 

 

 

Introduction to Chinese medicine (A)

2

2

 

 

 

 

 

 

 

Biotechnology for Natural Herbal Medicines

Biology(C)

2

2

 

 

 

 

 

 

 

 

Service learning

0

 

0

 

 

 

 

 

 

 

Physiology (C)

3

 

3

 

 

 

 

 

 

 

Analytical chemistry (B)

2

 

2

 

 

 

 

 

 

 

Organic chemistry(A)

2

 

2

 

 

 

 

 

 

 

Biochemistry (B-1)

2

 

 

2

 

 

 

 

 

 

Pents'aology

2

 

 

2

 

 

 

 

 

 

Medicinal botany

2

 

 

2

 

 

 

 

 

Biotechnology for Natural Herbal Medicines

Medicinal botany laboratory

1

 

 

1

 

 

 

 

 

Biotechnology for Natural Herbal Medicines

Microbiology & immunology (D)

2

 

 

 

2

 

 

 

 

 

Biochemistry (B-2)

2

 

 

 

2

 

 

 

 

 

Pharmacology (E-1)

2

 

 

 

2

 

 

 

 

 

Medicinal botany laboratory

1

 

 

 

1

 

 

 

 

Biotechnology for Natural Herbal Medicines

Medicinal botany

1

 

 

 

1

 

 

 

 

Biotechnology for Natural Herbal Medicines

Instrumental analysis

2

 

 

 

 

2

 

 

 

Biotechnology for Natural Herbal Medicines

Pharmacognosy(E-2)

2

 

 

 

 

2

 

 

 

 

Processing of Chinese materia medic

2

 

 

 

 

2

 

 

 

Biotechnology for Natural Herbal Medicines

Processing of Chinese materia medica laboratory

1

 

 

 

 

1

 

 

 

Biotechnology for Natural Herbal Medicines

Pharmacognosy

2

 

 

 

 

2

 

 

 

Biotechnology for Natural Herbal Medicines

Pharmacognosy laboratory

1

 

 

 

 

1

 

 

 

Biotechnology for Natural Herbal Medicines

Chinese materia medica

2

 

 

 

 

2

 

 

 

Biotechnology for Natural Herbal Medicines

Instrumental analysis

2

 

 

 

 

 

2

 

 

Biotechnology for Natural Herbal Medicines

Instrumental analysis laboratory

1

 

 

 

 

 

1

 

 

Biotechnology for Natural Herbal Medicines

Pharmacology of Chinese materia medica

2

 

 

 

 

 

2

 

 

Biotechnology for Natural Herbal Medicines

Pharmacology of Chinese materia medica laboratory

1

 

 

 

 

 

1

 

 

 

Pharmacognosy laboratory

1

 

 

 

 

 

1

 

 

Biotechnology for Natural Herbal Medicines

Pharmacognosy

1

 

 

 

 

 

1

 

 

Biotechnology for Natural Herbal Medicines

Prescriptions in traditional Chinese medicine

2

 

 

 

 

 

2

 

 

Biotechnology for Natural Herbal Medicines

Prescriptions in traditional Chinese medicine laboratory

1

 

 

 

 

 

1

 

 

Biotechnology for Natural Herbal Medicines

Quality control of Chinese materia medica

2

 

 

 

 

 

2

 

 

Biotechnology for Natural Herbal Medicines

Quality control of Chinese materia medica laboratory

1

 

 

 

 

 

1

 

 

Biotechnology for Natural Herbal Medicines

Biostatistics

2

 

 

 

 

 

 

2

 

 

Pharmaceutical laws & regulations

1

 

 

 

 

 

 

1

 

 

Dispensing of Chinese pharmacy

2

 

 

 

 

 

 

2

 

 

Internship of Chinese pharmacy & mannfacture practice

4

 

 

 

 

 

 

4

 

The Third
Semester
In summer vacation

Instrumental analysis laboratory

1

 

 

 

 

 

 

1

 

Biotechnology for Natural Herbal Medicines

Cultivatology of Chinese materia meddica

2

 

 

 

 

 

 

 

2

 
 Elective Course 
DEPARTMENT OF CHINESE PHARMACEUTICAL SCIENCES AND CHINESE MEDICINE RESOURCES COMPULSORY COURSES 

SUBJECT

CREDIT

FRESHMAN

SOPHOMORE

JUNIOR

SENIOR

REMARKS

SEM1

SEM2

SEM1

SEM2

SEM1

SEM2

SEM1

SEM2

Calculus (I)

2

2

 

 

 

 

 

 

 

 

Introduction of research & development of Chinese medical herbs

2

2

 

 

 

 

 

 

 

 

Introduction of application of Chinese medical herbs

2

2

 

 

 

 

 

 

 

 

General chemistry laboratory (B)

1

1

 

 

 

 

 

 

 

 

Biology Laboratory(B)

1

1

 

 

 

 

 

 

 

 

Medicinal zoology

1

 

1

 

 

 

 

 

 

 

Introduction of Chinese medicine resource

2

 

2

 

 

 

 

 

 

 

Organic chemistry laboratory(A)  

1

 

1

 

 

 

 

 

 

 

Place Making:Start from the local chinese herbal medicine  

1

 

1

 

 

 

 

 

 

Micro-credit course

Biochemistry laboratory (B) 

1

 

 

1

 

 

 

 

 

 

Physiology laboratory (B) 

1

 

 

1

 

 

 

 

 

 

Introduction to chinese herbal medicine via western herbs   

2

 

 

2

 

 

 

 

 

Taught in English

Physiology laboratory 

1

 

 

1

 

 

 

 

 

 

Introduction to biotechnology 

2

 

 

2

 

 

 

 

 

 

Molecular biology

2

 

 

2

 

 

 

 

 

 

Medicinal mineralogy

1

 

 

1

 

 

 

 

 

 

Cell biology

2

 

 

 

2

 

 

 

 

Biotechnology for Natural Herbal Medicines

Biochemistry laboratory (C)

1

 

 

 

1

 

 

 

 

 

Microbiologic & immunology laboratory (D)

1

 

 

 

1

 

 

 

 

 

Nutriology

2

 

 

 

2

 

 

 

 

 

Natural products chemistry laboratory

1

 

 

 

1

 

 

 

 

Biotechnology for Natural Herbal Medicines

Literature reading

2

 

 

 

2

 

 

 

 

 

Natural products chemistry

3

 

 

 

3

 

 

 

 

Biotechnology for Natural Herbal Medicines

Practice of research project (I)    

1

 

 

 

 

1

 

 

 

 

Enzymology

2

 

 

 

 

2

 

 

 

 

Plant tissue culture

2

 

 

 

 

2

 

 

 

Biotechnology for Natural Herbal Medicines

Plant tissue culture laboratory

1

 

 

 

 

1

 

 

 

Biotechnology for Natural Herbal Medicines

Medicated diet     

2

 

 

 

 

2

 

 

 

Biotechnology for Natural Herbal Medicines

Cosmetics in traditional Chinese medicine

2

 

 

 

 

 

2

 

 

Biotechnology for Natural Herbal Medicines

Introduction to discovery & development of new Chinese herbal medicine

2

 

 

 

 

 

2

 

 

●Biotechnology for Natural  Herbal Medicines
●Business Management of Traditional Chinese Medicine

Plant tissue culture laboratory

1

 

 

 

 

 

1

 

 

Biotechnology for Natural Herbal Medicines

Health food in traditional Chinese medicine

2

 

 

 

 

 

2

 

 

●Biotechnology for Natural Herbal Medicines
●Business Management of Traditional Chinese Medicine

Practice of research project (II)

1

 

 

 

 

 

1

 

 

 

Clinical traditional chinese medicinals 

2

 

 

 

 

 

 

2

 

 

Seminar

1

 

 

 

 

 

 

1

 

 

Commodity science of herbal products

2

 

 

 

 

 

 

2

 

 

Nourishing health of Chinese herbal medicine

2

 

 

 

 

 

 

2

 

Business Management of Traditional Chinese Medicine

Practice of research project (III)

1

 

 

 

 

 

 

1

 

 

Pharmaceutics in traditional Chinese medicine

2

 

 

 

 

 

 

2

 

 

Discovery & development of Chinese herbal medicine

2

 

 

 

 

 

 

2

 

 

Pharmacokinetics of Chinese materia medica

2

 

 

 

 

 

 

2

 

Biotechnology for Natural Herbal Medicines

Pharmacology of traditional Chinese medicine formulae

2

 

 

 

 

 

 

2

 

Biotechnology for Natural Herbal Medicines

Toxicology of traditional Chinese materia medica

2

 

 

 

 

 

 

2

 

Biotechnology for Natural Herbal Medicines

Theory & research of intellectual property

1

 

 

 

 

 

 

 

1

Biotechnology for Natural Herbal Medicines

Marketing & management of traditional Chinese medicines

2

 

 

 

 

 

 

 

2

Biotechnology for Natural Herbal Medicines

Technology & practice of botanical preparation

2

 

 

 

 

 

 

 

2

 

Introduction to western herbal materials & therapeutics

2

 

 

 

 

 

 

 

2

Taught in English

Practice of research project (IV)

1

 

 

 

 

 

 

 

1